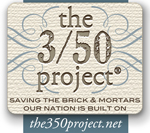 Four years ago, when we moved to our new house, we started finding a lot of spiders and bugs crawling in and around our house. A neighbor explained that since our area was still getting built, every time the ground was dug for a new foundation, bugs would escape and find new haven in already built houses.
I am a non-violent person but here in the great state of Texas, some spiders, like the Black Widow, can be poisonous. So we did some research and hired Jim, who ran First Step Pest Control. Jim lives in our area and he is courteous, friendly and has competitive rates. He is always there when we need pest control taken care of in between his quarterly treatments and we haven't regretted hiring him all these years.
When Alicia, who has an itsy blog
La Alicia
, recently posted about the
3/50 project
, it made me think of Jim. The basic premise, according to Alicia and 3/50, is to support local economy by patronizing locally owned independent businesses. By spending about $50 every month on three local businesses we can boost our local economy. In a recent Time magazine article, researcher David Boyle of New Economics Foundation (NEF), a London think tank, said, "Money is like blood. Local purchases recirculate it, but patronize mega-chains or online retailers and it flows out like a wound."
Another local business we regularly go to is the German bakery
Bread Haus
. The owners, Mark and Petra, make gluten free, yeast free, eggless organic breads and have been in business for the last twelve years, thanks to a loyal clientele.
Green Mama's is an organic nursery we also patronize. They sell organically grown plants and herbs and the staff is knowledgeable about the organic fertilizers and other products in the store, unlike the national home improvement chains.
So, next time you go through your neighborhood or nearby downtown, take a closer look at the local retailers. If possible, patronize them. You never know what treasure you may find.
So what three or more local stores are you going to patronize?